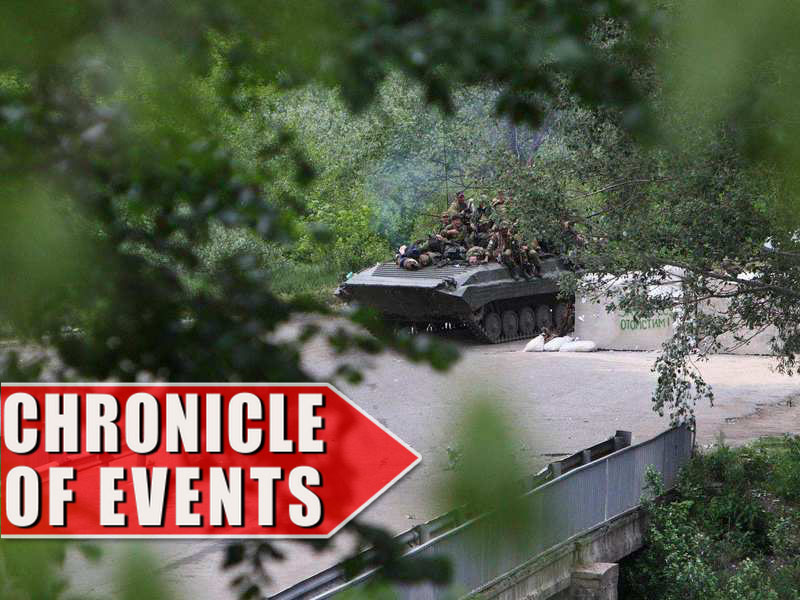 Timely information from the fronts of DPR and LPR, military reports from the Armed Forces of Novorossia, ATO news, photos and videos by military journalists from the flash points of Donbass, topical interviews with leaders of Novorossia.

---
Watch videos of events in Novorossia on Cassad-TV

Collecting help for Novorossia. Charitable Foundation "Global Initiatives"
---
- The war in Novorossia Online 07.27.2015 Chronicle
- The war in Novorossia Online 07.26.2015 Chronicle
- The war in Novorossia Online 07.24.2015 Chronicle
---
18:22 Roundup of the day for July 27-28, 2015
1. The situation over the last day in the DPR and the LPR.
2. Ukraine presented a new uniform for AFU.
3. Russia is ready to veto the establishment of the tribunal for the Boeing 777.
4. Donbass needs about two billion dollars for the restoration.
5. Ukraine is preparing terrorists to send to Crimea.
6. Ukrainian court will judge Yanukovych in absentia.
7. Deynego and Pushilin on the payment of pensions and benefits.

---
14:02 AFU fired at Donetsk and Gorlovka, two residents were injured

---
12:04 The shelling of Shirokino

---
11:30 The shelling of Donetsk

---
10:36 AFU in LPR began to use 85-mm shells of the Great Patriotic War period

---
10:18 Message from militia.


"Lugansk area. Vesyolaya Gora - Schastye: the battle with the active use of artillery. Stanitsa Luganskaya: fight (all types of weapons besides MLRS). Donetsk. Peski: GLRs + artillery. Peski: infantry combat (large caliber machine guns, ATGMs)" .
---
9:37 At 21:00 of July 27 Gorlovka was under fire. At 21:15 movement of AFU military equipment was observed in the north. From 21:40 to 22:00 shots were heard in the village Zaitsevo.

Also at 22:21 gunfire was heard in the north of Gorlovka. At 22:35 settlement Zaitsevo suffered AFU massive bombardment again. Also, at 22:40 gunfire was heard in the village Svetlodarskoye.

At 22:41 Golma suffered massive shelling from Bakhmutka. Cannon artillery joined from the south.

The firing on Gorlovka was conducted at 22:45 from Yuzhnaya and Shumy.

Moreover, at 23:00 shelling was conducted on Golmovsky steppe from Bakhmutka. At 23:30 there was close infantry combat at Zaitsevo. Mortars joined the firing. From 23:35 to 23:59 shelling of 5th mine was reported.

At 00:00 attacks were recorded in Golma. Also, the firing was conducted at the settlements Bessarabka, Kurganka. The settlement Kalinovka remained tense. At 00:10 there was fire in the settlement Kurganka. At 00:17 it was reported that the shelling of Bessarabka and Kurganka was conducted from Shumy and Yuzhnaya.

At 00:40 of July 28 shelling of the north of Gorlovka continued. Also, firing in the locality Yuzhnaya, Artyomovo, Zheleznaya, Mayorsk did not cease.
At 00:53 AFU shelled the settlement Novgorodskoye with ATGM.

At 1:25 of July 28 there was a fight in the north of Gorlovka. At 01:35 firefight was recorded between Zaitsevo and Bakhmutka.

At 5:15 shots were heard in Novgorodskoye.

---
9:00 Military and humanitarian map of Novorossia and the south of Ukraine for July 25-26